Timberland Investment Sale
Planted Pine & Natural
Hardwood
in Southwest Arkansas coastal plains
Evans 40 in Ouachita County
List price: $68,700
Soil: Fine sandy loam with red clay underneath; elevation 150 feet - 170 feet. Planted pine growing 3.5 feet/year, planted pine yield 6 tons/acre/year; native pine yield 3 tons/acre/year.
<![if !vml]>
<![endif]><![if !vml]>
<![endif]>Overview: Planted 10.5-year old pine & natural mixed hardwood:
stand #1: 19-acres in 10-year old planted loblolly elite Atlantic Coastal pine, shear/bed 7x14' centers, grass spray, 2013 release spray.
stand #2: 3-acres in 10-year old natural mixed hardwood/pine.
stand #3: 2-acres in 10-year old natural mixed transition.
stand #4: 12-acres in +59-year old mature natural hwd/pine.
pond: 2-acres.
open: 2-acres in good internal roads, decks & foodplots.
Inventory: Forester, Teddy Reynolds, 870-299-0977. Invited to conduct due diligence inspections; individuals entering tract assume liability & waive owner liability.
stand
type
acres
origin
2019
pine
oak logs
misc logs
hwd pulp
age
tpa
dbh
ht
tpa
dbh
ht
tpa
dbh
ht
tpa
dbh
ht
1
pine planted
19
2009
10
350
7.6''
35'
-
-
-
2
mixed natural
3
200
3''
25'
250
4''
20'
3
mixed transition
2
100
5''
20'
150
4''
20'
4
hardwood natural
12
1960
59
2
14''
80'
10
15''
70'
12
16''
70'
75
11''
50'
pond
pond
2
na
na
na
roads
roads
2
tpa = trees per acre; dbh = diameter at breast height; log = 16ft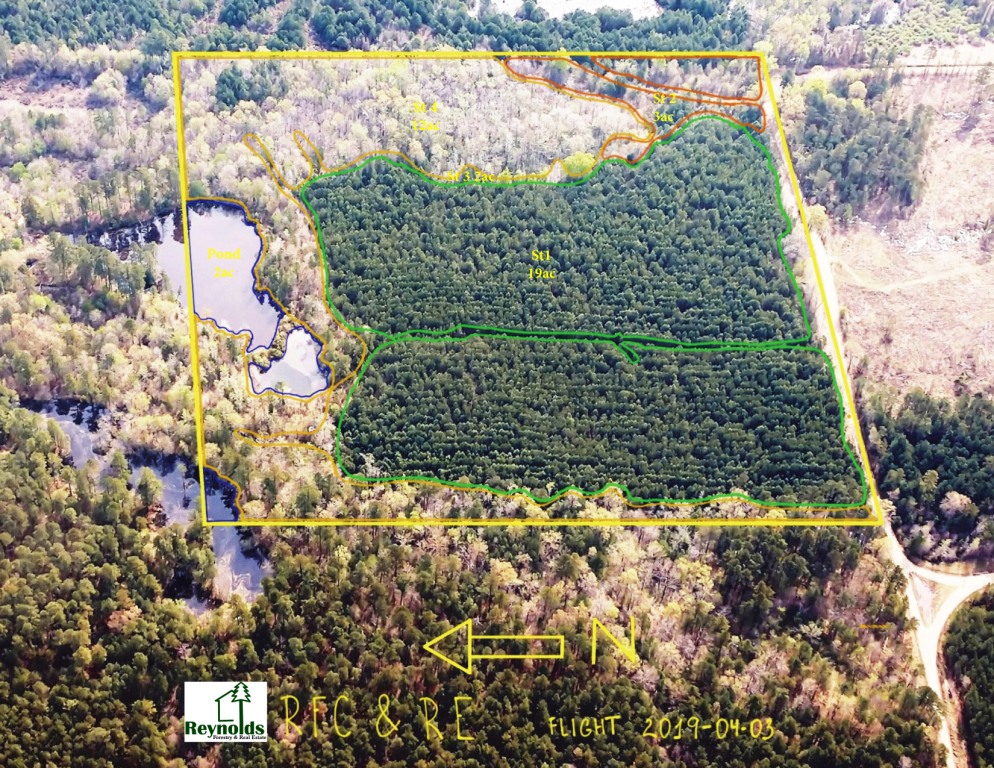 2019/04/03 RFC&RE Aerial flight