Geographic Information Systems (GIS) is a powerful computer mapping technology that allows the merging of valuable database information with digital maps. The digital maps can be "layered" on top of one another while being linked to a database such as Access or Oracle. And that information can be displayed in map or report form.
This system allows us to quickly and effectively display various sorts of geographic data and other pertinent information in the form of maps overlaid on topographic maps and aerial photography.

There are several definitions of GIS. Some more technical and complicated than others. I have found the definition below to cover the definition of GIS fairly well.
"In the strictest sense, a GIS is a computer system capable of assembling, storing, manipulating, and displaying geographically referenced information , i.e. data identified according to their locations. Practitioners also regard the total GIS as including operating personnel and the data that go into the system."
http://info.er.usgs.gov/research/gis/title.html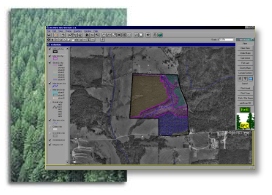 Aerial map with timber stand boundaries
If you would like to learn more about GIS, GPS, mapping or satellite imagery, visit the GIS links page. (click here for GIS / mapping links)